The Pricing & Sales Bundle 🤑
Stop leaving money on the table - start charging your 'worth' and enjoy
20% off

our holy-grail course bundle for photographers!

Whether you want to raise your prices to charge your worth, take care of your family, enjoy more work-life balance or crave the freedom to live a purpose-driven life...I want to help you charge your 'worth', create more sustainable income and book your dream clients.

With 20% off, this Pricing & Sales Bundle is a no-brainer investment for taking your photography business to the next level.

Valued at a total of $391, the Pricing & Sales Bundle includes:

1️⃣The Upsell Academy online course

2️⃣34 High-Converting Email Templates

3️⃣ Plug-and-Play Pricing Calculator

GET LIFETIME ACCESS FOR JUST $313 👌🥳
Can you maximise your profits...without working any harder?
YES, YOU CAN, and it's not as complicated as you think. Pricing your products and services does justice to your biz AND allows (and motivates) you to show up as your best self for your clients.
Aside from selling your photography packages, you can boost your bottom line even further by upselling your add-ons and making it easy for your clients to spend more with you.
That's why I've created this Pricing & Sales bundle just for you - from my easy-to-follow The Upsell Academy mini online course to my done-for-you email templates and pricing calculator, you'll have EVERYTHING you need to start maximising your profits TODAY.
What's all the fuss about?
Each bundle inclusion has been carefully considered to maximise your profits and results ASAP.
👉Mini-Course: The Upsell Academy
All the how-to knowledge and simple tools to start offering and promoting upsells in your photography business.
👉

Template

: 34 High-Converting Emails
Transform your wedding enquiries into bookings and streamline your inbox workflow with these plug-and-play email templates.
👉

Tool

: Pricing Calculator
This 'done for you' Pricing Calculator will empower you to charge your worth - no more lowballing your hard work! Track your annual business expenses and automatically calculate how to charge each client.
Quit second-guessing yourself and start building a business that's worth paying for.😎
Get lifetime access today for

$391

ONLY $313
Because your art deserves to be celebrated
...and life's too short to be a struggling artist.
Here's the breakdown of what's included in your Pricing & Sales Bundle
You'll have lifetime access - dip in and out as much as you like!
Online Course
The Upsell Academy
Keeping it simple with 5 core training videos, the Upsell Academy will break it all down:
✔WHY upsells are important and how to nurture your sales mindset
✔WHAT products and services you can upsell
✔HOW to promote and sell your upsells
✔WHEN to upsell throughout a client's journey
✔PRICING your products and services to maximise desirability
This mini-course will walk you through the EASIEST way to create sustainable income throughout your busy and quiet seasons - so you can make more money while better serving your clients!
Valued at $297
Templates
High-Converting Email Templates
34 email templates to help you nail those bookings and 5-star reviews, including:
✓ Initial booking enquiry & follow-ups
✓ Unavailable for wedding date
✓ Booking deposit request - enquiries for the same date
✓ Booking confirmation
✓ Vendor introduction
✓ Post-booking follow-up/ check-in
✓ Sneak peek reveal
✓ Slideshow & Gallery - client delivery
✓ Review request
✓ Gallery submission for publication
✓ Collaboration opportunity & requests
Streamline your workflow and knock out emails in less than 5 minutes with our tried-tested-and-totally works templates!
Valued at $47
Tool
Pricing Calculator
A Google Sheets plug-and-play calculator, the Pricing Calculator will work out:
✓ The exact number of weddings you need to book to achieve your goals
✓ How much you should be charging each client to maximise your profits
✓ How much your business costs to run each week
✓ BONUS: A training video to help you refine your Price Guide
✓ BONUS: 1-hour training on the importance of a sales funnel (live replay)
Track your annual business expenses against your income goals and calculate exactly how much you should be charging - without the self-doubting 'guilt'.
Valued at $47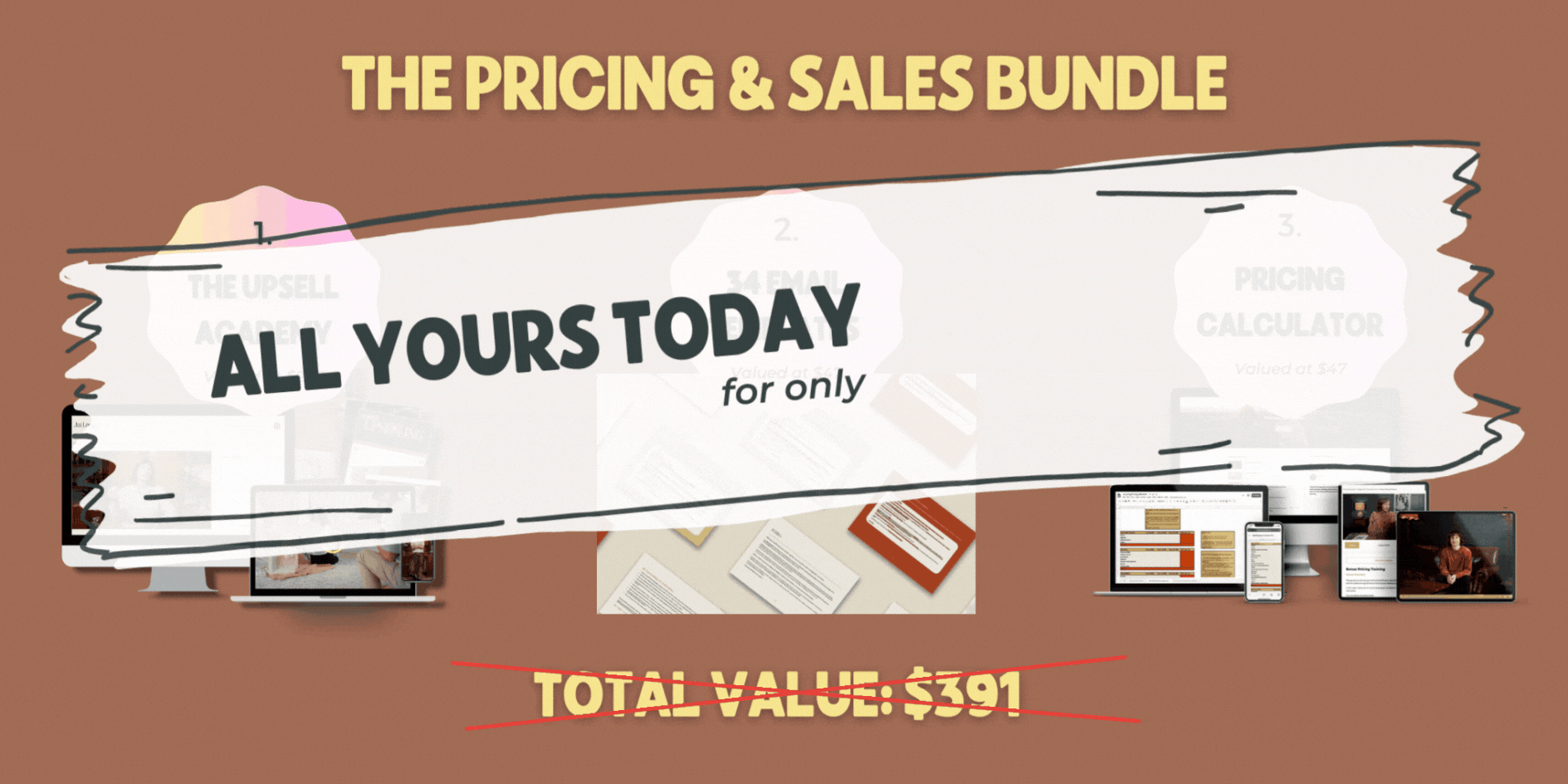 Do I have to be an experienced photographer to benefit from the course?
What's exactly included in the Pricing & Sales Bundle?
How do I access the course materials?
Hey 👋, I'm Jai Long!
A high-level business coach for wedding photographers and creative entrepreneurs, you've probably heard about me from the Six-Figure Business Map online course, Wedding Photography Summit or my 'Make Your Break' chart-topping podcast.
When I was first starting out, I wished I had a mentor to guide me through the highs and lows and keep me accountable. Someone to show me the ropes and teach me what works and what doesn't to save me the time, energy and money that gets wasted on trial and error.
Beyond the liberation of financial success, the one thing I'm most proud of is the amazing community I've created. A like-minded community of photographers and creatives who are carving their own path, hundreds of whom have successfully built their own six-figure businesses and beyond.
It's powerfully rewarding to support my community go through life-changing transformations, overhauling their mindsets and stepping into their empowered selves.
Elevate your clients' experience AND increase your revenue - at the same time.
For photographers, the Pricing & Sales Bundle will help you to nail your pricing strategy and create extra revenue in your business - without extra work.
Happy clients, happy you...happy business all around.
Get the Pricing & Sales Bundle now for $313 💥